Affiliate Account Setup
1. Read and accept the Affiliate Program Agreement. It's a good idea to completely understand what you are signing up for. Then, click the "I accept the agreement terms and conditions" button on its tab.
2. Enter the registration information in the application form.
Application form
Click image to enlarge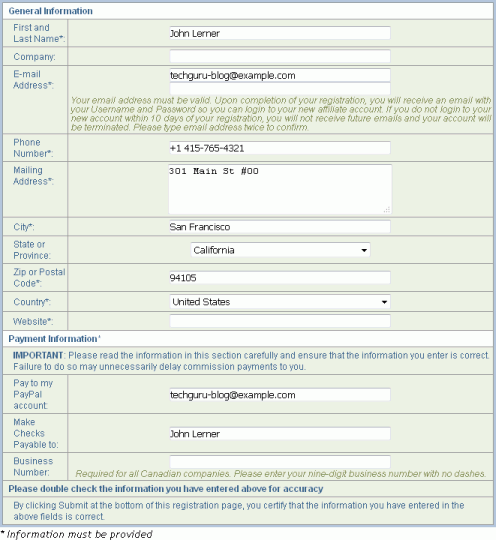 Please note that we do not accept sites that contain/promote pornography, gambling, discrimination or otherwise illegal activities. Moreover, your existing affiliate account may be suspended or even terminated for such inappropriate content, and for the following:
Violation of the Affiliate Program Agreement.
Inappropriate advertisements (false claims, misleading hyperlinks).
Spamming (mass email, mass newsgroup posting, etc.)
3. Click Submit.
4. After we've processed your application, we'll send you an email confirmation letting you know that we've accepted your registration. Your confirmation email will include your username and password. It usually takes us about 2 to 5 business days to send your confirmation email, but occasionally it may take longer.
5. When you receive the confirmation email, log in to your new account. click Account Information and verify the information that you entered. If you notice any mistakes, go ahead and correct it using the "Change to" field.
Account information
Click image to enlarge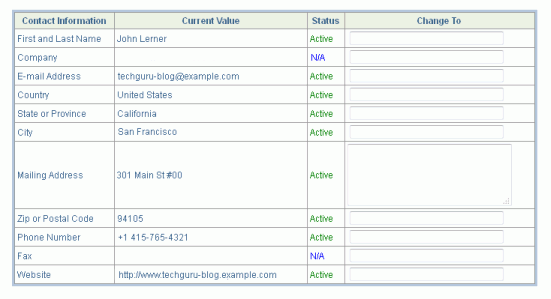 If everything is correct, you can start creating web pages with affiliate links. You can also add your affiliate links to an existing approved site.
Adding Affiliate Links to New or Existing Web Pages
Once your affiliate account is set up, you can begin creating content or populating your existing page with affiliate links. Before you begin, make sure you review the content guidelines below.
Content Guidelines
Original, informative, and technically accurate content related to the functions of our software or the IT industry performs the best. However, there are no topic restrictions on your page content, other than those that are specifically listed as violations of the Affiliate Program Agreement.
We have a number of useful, in-depth technical articles, reviews, tutorials and walkthroughs that you are free to rewrite and repurpose for your web pages and blog posts. When using our content, we encourage you to introduce your own voice or analysis to the subject matter in order to make it unique. Article spinning (e.g. using an automated tool to insubstantially reword the article) is considered spamming and is prohibited in accordance with the Affiliate Program Agreement. Not only will spinning harm the search engine rankings of your affiliate page, it may harm the rankings of our original content.
An example of a blog article with affiliate links
Click image to enlarge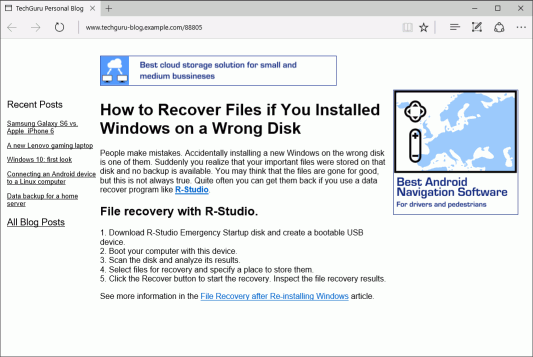 Once your page or post is authored, it's time to add affiliate links. It's important to build your links properly so we can correctly identify you as the referrer, track your performance, and compensate you for the sales you generate.
To build valid affiliate links, log in to your affiliate account and go to the Links and Graphics page. There, we've provided a number of high quality banners, images, and text links you can use on your page.
The Links and Graphics page
Click image to enlarge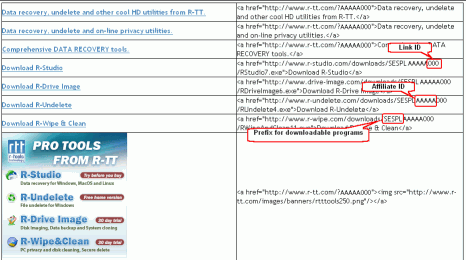 On the Links and Graphics page, you can see a number of copy-and-paste ready code snippets for your page or post as well as a preview of the output. This code has been generated with your unique Affiliate ID already incorporated. In the example screenshot, the Affiliate ID is "AAAAA." Do not change this part of the link code. The Affiliate ID stays constant and identifies your visitors that come to our site.
Each link also has a Link ID. The Link ID comes right after the Affiliate ID and is shown in the example screenshot as "000." Unlike the Affiliate ID, the Link ID can and should be modified for each link. You may assign yourself up to 1,000 different Link IDs (from 000 to 999). Link IDs help you track the performance of each of your links. In the statistics report we generate for you, we'll include the Link ID so you can see which links generate the most clicks, downloads, and purchases. As you build your link strategy, assign different Link IDs based on which page the link appears on, where the link appears on the page, etc. Assigning different Link IDs to each link helps you get the most out of the metrics we provide back to you.
Affiliate links can also be configured with a Download Prefix. In the example screenshot, this is shown as "SESPL" and it appears just before the Affiliate ID. This provides a convenient link for your visitors to directly download our software while still giving you credit for the referral.
In addition to text links, you can also create links using our banners and other promotional graphics. Graphical links and banners can refer visitors to our website or direct downloads.
The figures below show all these features.
Various links in the blog article
Click image to enlarge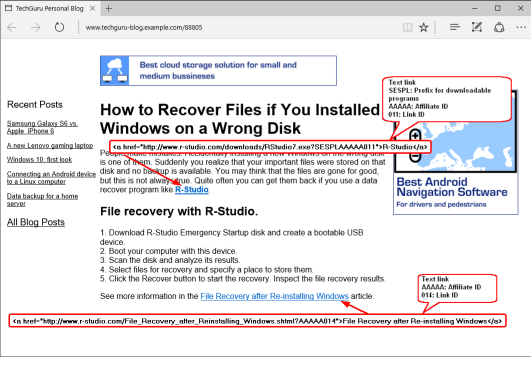 Text links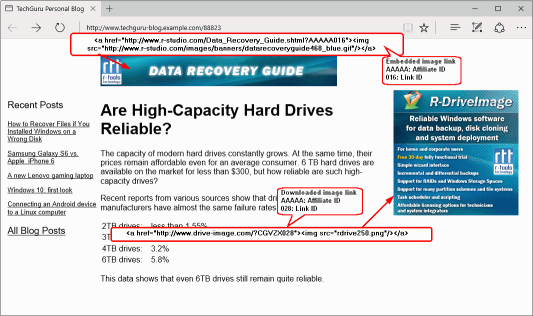 Graphic links
Affiliate Link Guidelines
Please note that you should NOT use more than 1-2 links on one web page to our web pages. If there is an excessive amount of referring links on a page, search engines may identify the link as spam. In the example above, note that there are two affiliate links on the page. However, one of the links points to www.r-studio.com and the other points to www.r-tt.com.
Each page that contains affiliate links must be approved. The approval process for individual pages is much quicker than the application approval process.
Log in to your affiliate account and go to the Add Web Page form. Enter the page URL and then submit it to us. Our affiliate program administrator will review the page for adherence to our content and affiliate link guidelines. Once the page is approved, the affiliate program will start tracking statistics for that page.
The Add Web Page page
Click image to enlarge

Please be advised that the statistics for the links on "Declined" pages is ignored and excluded by our affiliate engine. Statistics are collected for "Pending" web pages and will be added to your account as soon as the page is approved.
Affiliate Program Statistics
For each of our affiliates, we provide a set of powerful statistics and reporting tools. This is one of the strongest parts of our Affiliate Programs; many of our affiliates effectively use these versatile tools to maximize the performance of their affiliate links and generate more revenue. To view your statistics, go to the Statistics page. The metrics are updated daily.
The Statistics page
Click image to enlarge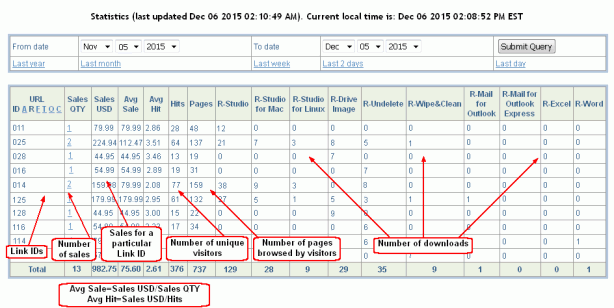 The form along the top of the Statistics page shows you the reporting interval for the data below. You can specify a From and To date, or you can choose from one of the frequently used intervals (Last year, Last month, Last week, Last 2 days, Last day).
Each Link ID is listed separately in the URL ID column. The Link ID is the unique three digit number (000 to 999) you've assigned when building your link. The engagement of each visitor is tracked separately according to the Link ID. You can see how many unique visitors clicked the link (hits), how many pages the visitors viewed, and how many sales and downloads each link generated.
This reporting lets you see which links are performing the best.
In the example screenshot, you can see that Link ID 014 is generating more income overall than the other links. However, Link ID 011 is producing the most income per hit. That is, Link ID 014 generates more traffic and revenue, but Link ID 011 has a higher conversion rate.
By using unique Link IDs on each page, you can analyze your performance in order to hone and develop your content strategy. Experiment with various link types and link locations to achieve the best results.
Receiving Money from R-TT
The Sales Report page shows the overall financial results of your affiliate program. The Sales Report provides statistics on Sales, Refunds, and Chargebacks for the whole period or for a specific date range.
A Sale is registered when one of the visitors you refer purchases a product. We take quantity of sales for each product and multiply it by the sales price for each product to get your total Sales USD.
A Refund is when R-TT issues a refund of the purchase price. Our refund policy is published at https://www.r-tt.com/Purchase.shtml . Refunds are deducted from your total Sales USD.
Likewise, a Chargeback is when a cardholder disputes the charge with his credit card issuer and reverses the transaction. This is equivalent to a refund, and will also be deducted from your total Sales USD.
The final number we calculate is your total Sales USD, less your Refunds USD, and less your Chargebacks USD.
The sales data is broken by product. The total sales for a reporting period are generated by totaling the Sales USD and deducting the Refunds USD and Chargebacks USD.
Affiliate Program Sales Report
Click image to enlarge

The Account balance report shows the calculations for determining the amount due to you at the beginning of each month. As you can see from the example below, the Related Sales (USD) number comes from the Total USD calculation in your Sales Report. This is multiplied by your Current Affiliate Rate to determine your Calculated Fee.
Affiliate Program Account Balance
Click image to enlarge

The due account balance is paid by R-TT automatically at the beginning of each month.
R-tools technology has taken strong measures to protect the security of your personal information. We take stringent precautions to protect your data from loss, misuse, unauthorized access or disclosure, alteration or destruction. We do not sell or give away information obtained from customers and prospective customers.
Please note that your affiliate application and status in the affiliate program can be suspended or terminated for any of the following reasons:
Web-pages contain/promote pornography, gambling, discrimination or otherwise illegal activities.
Infringement of intellectual property rights.
Violation of the Affiliate Program Agreement.
Inappropriate advertisements (False claims, misleading hyperlinks).
Spamming (mass email, mass newsgroup posting, etc.)