Partner-Links zu neuen oder bestehenden Seiten hinzufügen
Sobald Ihr Partnerkonto eingerichtet ist, können Sie damit beginnen, Content zu erstellen oder Ihre bestehende Seite mit Partnerlinks aufzufüllen. Bevor Sie beginnen, vergewissern Sie sich, dass Sie unsere inhaltlichen Richtlinien unten zur Kenntnis genommen haben.
Inhaltliche Richtlinien
Originelle, informative und technisch richtige Inhalte zu den Funktionen unserer Software oder zu IT-Branche zeigen die beste Performance. Dennoch besteht keine Themenbindung für Ihre Webseiteninhalte, abgesehen von Verstößen, die speziell in der Liste der Vereinbarung zum Partnerprogramm aufgeführt sind.
Wir stellen eine Reihe von nützlichen und umfassenden technischen Artikeln, Berichten, Anleitungen und Komplettlösungen bereit, die Sie individuell für Ihre Webseite oder Blogeinträge anpassen können. Beim Einsatz unserer Inhalte legen wir nahe, Ihren eigenen Stil und Ihre Einschätzung zu dem Thema einzubringen, um die Texte zu ihren eigenen zu machen. Textanpassung (z.B. maschinelle Paraphrase) wird dagegen als Spam angesehen und ist gemäß der Vereinbarung zum Partnerprogramm untersagt. Eine solche Anpassung schadet nicht nur der Suchmaschinenplatzierung Ihrer Partner-Seite, sie kann auch das Ranking der Originalinhalte beschädigen.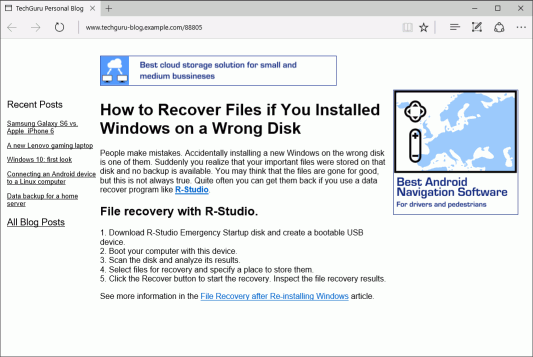 Beispiel für Links in einem Blog-Artikel
Sobald Ihre Seite oder Ihr Post fertiggestellt sind, können Partnerlinks hinzugefügt werden. Dabei kommt es darauf an, dass die Links korrekt aufgebaut sind, sodass wir Sie als Mittler korrekt zuordnen, Ihre Leistung verfolgen und Sie für Ihre Verkäufe entlohnen können.
Zum Erstellen eines Partnerlinks loggen Sie sich in Ihrem Partnerkonto ein und wählen Sie die Seite Links and Graphics (Links und Grafiken). Hier haben wir eine Reihe von hochauflösenden Bannern, Bildern und Text-Links für die Benutzung auf Ihrer Seite bereitgestellt.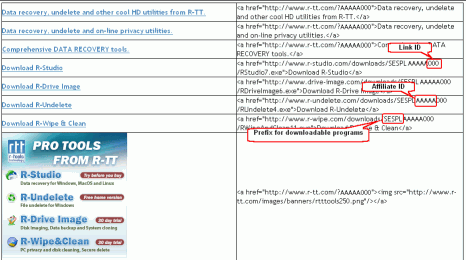 Die Seite Links and Graphics (Links und Grafiken)
Auf der Seite Links and Graphics (Links und Grafiken) finden Sie eine Reihe von Kopiervorlagen von Code-Schnipseln für Ihre Homepage oder Ihre Posts sowie eine entsprechende Vorschau. Der Code wurde bereits anhand Ihrer individuellen Partner-ID erstellt. Im Beispiel-Screenshot lautet die Partner-ID "AAAAA". Lassen Sie diesen Teils des Codes unverändert. Die Partner-ID bleibt bestehen. Über Sie können Besucher, die von Ihrer Seite kommen, Ihnen zugeordnet werden.
Jeder Link verfügt über eine Link-ID. Die Link-ID folgt direkt auf die Partner-ID und lautet im Beispiel-Screenshot "000". Im Gegensatz zur Partner-ID sollte die Link-ID für jeden Link angepasst werden. Es steht Ihnen frei, sich selbst bis zu 1.000 unterschiedliche Link-IDs zuzuweisen (000 bis 999). Anhand der Link-ID können Sie die Reichweite jedes Ihrer Links nachvollziehen. In Ihrem Statistikbericht haben wir Ihre Link-IDs integriert, sodass Sie überprüfen können, welche Links die meisten Klicks, Downloads und Käufe generieren. Weisen Sie beim Aufbau Ihrer Link-Struktur unterschiedliche Link-IDs zu, je nach dem, auf welcher Seite der Link erscheint, wo der Link auf der Seite erscheint etc. Durch Zuweisen unterschiedlicher Link-IDs holen Sie das Meiste aus den Werten, die wir Ihnen zur Verfügung stellen.
Partner-Links können auch mit einem Download Prefix ausgestatten werden. Im Beispiel-Screenshot ist es als "SEPL" angezeigt und erscheint direkt vor der Partner-ID. So steht Ihren Besuchern ein bequemer Link zur Verfügung, mit dem sie unsere Software direkt herunterladen können, während Ihnen dies angerechnet wird.
Zusätzlich zu den Text-Links können Sie auch mithilfe unserer Banner und anderer Promo-Grafiken Links generieren. Grafische Links und Banner können Besucher auf unsere Webseite oder zu direkten Downloads weiterleiten.
Die Zahlen unten zeigen all diese Funktionen an.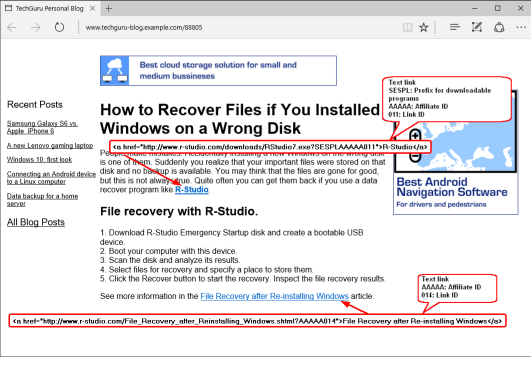 Text-Links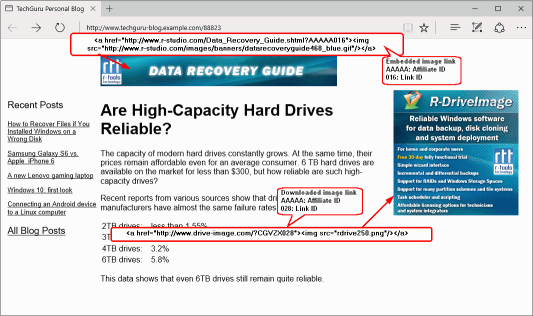 Grafische Links
Richtlinien für Partner-Links
Bitte beachten Sie, dass auf einer Webseite NICHT mehr als 1-2 Links zu unseren Seiten platziert sein sollten. Befinden sich zu viele Verweislinks auf einer Seite, könnten diese von Suchmaschinen als Spam identifiziert werden. Im Beispiel oben finden sich zwei Partner-Links auf einer Seite. Dabei verweist allerdings der eine auf www.r-studio.com, der andere auf www.r-tt.com.
Jede Seite, die Partnerlinks enthält, muss freigegeben werden. Der Freigabevorgang für einzelne Seiten verläuft bedeutend schneller als die anfängliche Antragsfreigabe.
Melden Sie sich in Ihrem Partner-Konto an und wählen Sie das Formular Add Web Page (Webseite hinzufügen). Geben Sie die Webseiten-URL ein und senden Sie sie an uns. Unser Partnerprogrammadministrator wird die Seite auf Übereinstimmung mit unseren Inhalten und die Einhaltung der Richtlinie für Partnerlinks hin untersuchen. Sobald die Seite freigegeben ist, werden dafür Statistiken erhoben.

Die Seite Add Web Page (Webseite hinzufügen)
Beachten Sie, dass Statistiken für Links auf Seiten mit dem Status "Abgelehnten" nicht berücksichtigt werden und vom Partnersystem ausgeschlossen sind. Statistiken werden von Seiten mit dem Status "Offen" erfasst und bei Bestätigung auf Ihr Konto angerechnet.