Einrichtung Partner-Konto
1. Lesen und akzeptieren Sie die Vereinbarung für das Partnerprogramm. Es wird empfohlen, dass Sie vollständig verstehen, worauf Sie sich einlassen. Klicken Sie dann auf "Ich akzeptiere die Vereinbarung und die Bedingungen" im entsprechenden Reiter.
2. Geben Sie die Anmeldedaten in das Antragsformular ein.
Antragsformular
Zum Vergrößern bitte Bild anklicken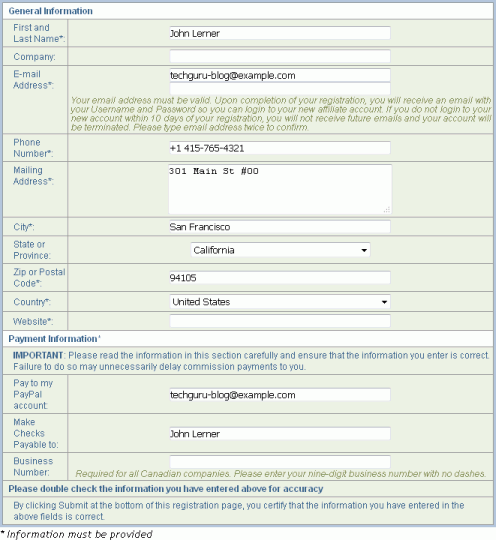 Bitte beachten Sie, dass wir keine Seiten akzeptieren, die Pornografie, Glückspiel, Diskriminierung oder andere illegale Aktivitäten beinhalten oder bewerben. Ferner kann ein bestehendes Konto zeitweise besperrt oder sogar ganz geschlossen werden, wenn derlei Inhalte auftreten oder einer der nachstehenden Fälle eintritt:
Verletzung des Partnervertrags.
Unsachgemäße Werbung (Falschaussagen, irreführende Links).
Spamming (Serien-E-Mails, Massenversenden von Nachrichten in Newsgroups usw.)
3. Klicken Sie auf Absenden
4. Sobald Ihr Antrag bearbeitet worden ist, senden wir Ihnen eine Bestätigungs-Mail zu, um Ihnen mitzuteilen, dass Ihre Registrierung angenommen wurde. In der Bestätigungs-Mail finden Sie Ihren Benutzernamen und Ihr Passwort. Für den Versand der Bestätigungs-Mail brauchen wir in der Regel ca. 2-5 Werktage. In Ausnahmefällen kann es länger dauern.
5. Sobald Sie Ihre Bestätigungs-E-Mail erhalten haben, melden Sie sich an Ihrem neuen Konto an. Klicken Sie auf Account Information (Kontoinformationen) und überprüfen Sie Ihre Angaben. Wenn Ihnen Fehler auffallen, korrigieren Sie diese im Feld "Change to" (ändern zu).
Kontoinformationen
Zum Vergrößern bitte Bild anklicken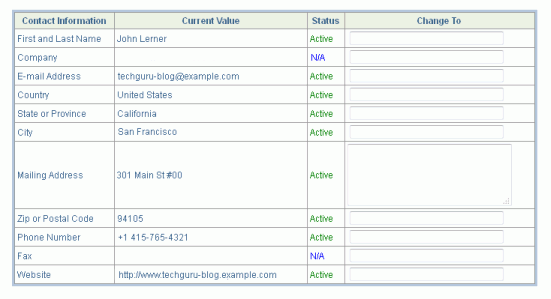 Wenn alles korrekt ist, können Sie damit beginnen, Webseiten mit Partner-Links zu erstellen. Oder fügen Sie Ihre Partner-Links zu einer bereits bestehenden Webseite hinzu.
Partner-Links zu neuen oder bestehenden Seiten hinzufügen
Sobald Ihr Partnerkonto eingerichtet ist, können Sie damit beginnen, Content zu erstellen oder Ihre bestehende Seite mit Partnerlinks aufzufüllen. Bevor Sie beginnen, vergewissern Sie sich, dass Sie unsere inhaltlichen Richtlinien unten zur Kenntnis genommen haben.
Inhaltliche Richtlinien
Originelle, informative und technisch richtige Inhalte zu den Funktionen unserer Software oder zu IT-Branche zeigen die beste Performance. Dennoch besteht keine Themenbindung für Ihre Webseiteninhalte, abgesehen von Verstößen, die speziell in der Liste der Vereinbarung zum Partnerprogramm aufgeführt sind.
Wir stellen eine Reihe von nützlichen und umfassenden technischen Artikeln, Berichten, Anleitungen und Komplettlösungen bereit, die Sie individuell für Ihre Webseite oder Blogeinträge anpassen können. Beim Einsatz unserer Inhalte legen wir nahe, Ihren eigenen Stil und Ihre Einschätzung zu dem Thema einzubringen, um die Texte zu ihren eigenen zu machen. Textanpassung (z.B. maschinelle Paraphrase) wird dagegen als Spam angesehen und ist gemäß der Vereinbarung zum Partnerprogramm untersagt. Eine solche Anpassung schadet nicht nur der Suchmaschinenplatzierung Ihrer Partner-Seite, sie kann auch das Ranking der Originalinhalte beschädigen.
Beispiel für Links in einem Blog-Artikel
Zum Vergrößern bitte Bild anklicken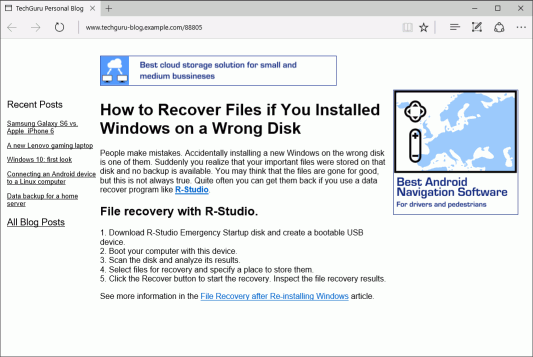 Sobald Ihre Seite oder Ihr Post fertiggestellt sind, können Partnerlinks hinzugefügt werden. Dabei kommt es darauf an, dass die Links korrekt aufgebaut sind, sodass wir Sie als Mittler korrekt zuordnen, Ihre Leistung verfolgen und Sie für Ihre Verkäufe entlohnen können.
Zum Erstellen eines Partnerlinks loggen Sie sich in Ihrem Partnerkonto ein und wählen Sie die Seite Links and Graphics (Links und Grafiken). Hier haben wir eine Reihe von hochauflösenden Bannern, Bildern und Text-Links für die Benutzung auf Ihrer Seite bereitgestellt.
Die Seite Links and Graphics (Links und Grafiken)
Zum Vergrößern bitte Bild anklicken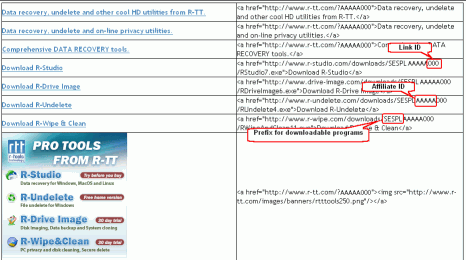 Auf der Seite Links and Graphics (Links und Grafiken) finden Sie eine Reihe von Kopiervorlagen von Code-Schnipseln für Ihre Homepage oder Ihre Posts sowie eine entsprechende Vorschau. Der Code wurde bereits anhand Ihrer individuellen Partner-ID erstellt. Im Beispiel-Screenshot lautet die Partner-ID "AAAAA". Lassen Sie diesen Teils des Codes unverändert. Die Partner-ID bleibt bestehen. Über Sie können Besucher, die von Ihrer Seite kommen, Ihnen zugeordnet werden.
Jeder Link verfügt über eine Link-ID. Die Link-ID folgt direkt auf die Partner-ID und lautet im Beispiel-Screenshot "000". Im Gegensatz zur Partner-ID sollte die Link-ID für jeden Link angepasst werden. Es steht Ihnen frei, sich selbst bis zu 1.000 unterschiedliche Link-IDs zuzuweisen (000 bis 999). Anhand der Link-ID können Sie die Reichweite jedes Ihrer Links nachvollziehen. In Ihrem Statistikbericht haben wir Ihre Link-IDs integriert, sodass Sie überprüfen können, welche Links die meisten Klicks, Downloads und Käufe generieren. Weisen Sie beim Aufbau Ihrer Link-Struktur unterschiedliche Link-IDs zu, je nach dem, auf welcher Seite der Link erscheint, wo der Link auf der Seite erscheint etc. Durch Zuweisen unterschiedlicher Link-IDs holen Sie das Meiste aus den Werten, die wir Ihnen zur Verfügung stellen.
Partner-Links können auch mit einem Download Prefix ausgestatten werden. Im Beispiel-Screenshot ist es als "SEPL" angezeigt und erscheint direkt vor der Partner-ID. So steht Ihren Besuchern ein bequemer Link zur Verfügung, mit dem sie unsere Software direkt herunterladen können, während Ihnen dies angerechnet wird.
Zusätzlich zu den Text-Links können Sie auch mithilfe unserer Banner und anderer Promo-Grafiken Links generieren. Grafische Links und Banner können Besucher auf unsere Webseite oder zu direkten Downloads weiterleiten.
Die Zahlen unten zeigen all diese Funktionen an.
Mehrere Links im Blog-Artikel
Zum Vergrößern bitte Bild anklicken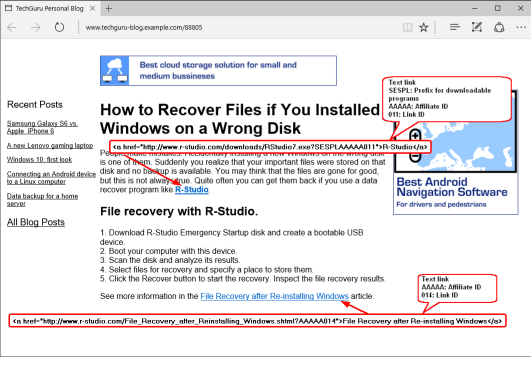 Text-Links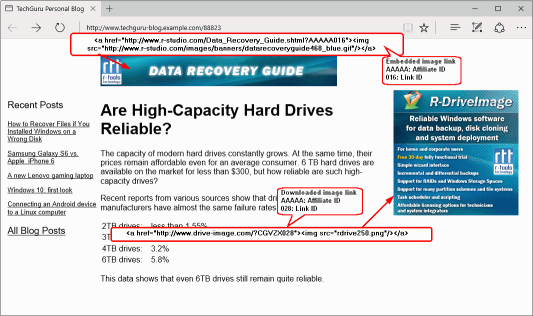 Grafische Links
Richtlinien für Partner-Links
Bitte beachten Sie, dass auf einer Webseite NICHT mehr als 1-2 Links zu unseren Seiten platziert sein sollten. Befinden sich zu viele Verweislinks auf einer Seite, könnten diese von Suchmaschinen als Spam identifiziert werden. Im Beispiel oben finden sich zwei Partner-Links auf einer Seite. Dabei verweist allerdings der eine auf www.r-studio.com, der andere auf www.r-tt.com.
Jede Seite, die Partnerlinks enthält, muss freigegeben werden. Der Freigabevorgang für einzelne Seiten verläuft bedeutend schneller als die anfängliche Antragsfreigabe.
Melden Sie sich in Ihrem Partner-Konto an und wählen Sie das Formular Add Web Page (Webseite hinzufügen). Geben Sie die Webseiten-URL ein und senden Sie sie an uns. Unser Partnerprogrammadministrator wird die Seite auf Übereinstimmung mit unseren Inhalten und die Einhaltung der Richtlinie für Partnerlinks hin untersuchen. Sobald die Seite freigegeben ist, werden dafür Statistiken erhoben.
Die Seite Add Web Page (Webseite hinzufügen)
Zum Vergrößern bitte Bild anklicken

Beachten Sie, dass Statistiken für Links auf Seiten mit dem Status "Abgelehnten" nicht berücksichtigt werden und vom Partnersystem ausgeschlossen sind. Statistiken werden von Seiten mit dem Status "Offen" erfasst und bei Bestätigung auf Ihr Konto angerechnet.
Statistiken Partner-Programm
Für jeden unserer Partner stellen wir eine Auswahl an umfassenden Statistik- und Bericht-Tools bereit. Darin liegt eine der großen Stärken unseres Partnerprogramms. Viele unserer Partner setzen diese vielseitigen Tool erfolgreich ein, um die Leistung ihrer Partner-Links zu maximieren und größere Gewinne zu erzielen. Um Ihre Statistiken einzusehen, gehen Sie auf die Seite Statistiken. Die Werte werden täglich aktualisiert.
Die Statistiken-Seite
Zum Vergrößern bitte Bild anklicken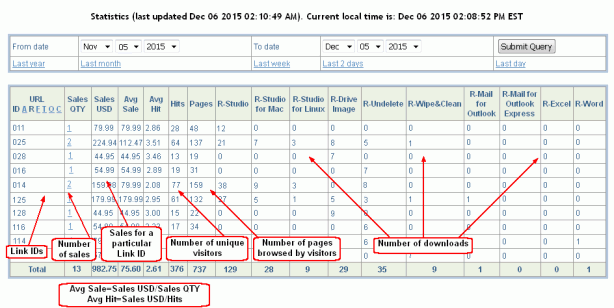 Das Formular oben auf der Statistiken-Seite zeigt den Erfassungszeitraum für die Daten unten an. Geben Sie hier einen Zeitraum "von/bis" an oder wählen Sie einen vorgegebenen Intervall (Letztes Jahr, Letzter Monat, Letzte Woche, Die letzten 2 Tage, Gestern).
Jede Link-ID wird separat in der URL-ID-Spalte aufgeführt. Die Link-ID ist eine einmalig vergebene dreistellige Zahl (000 bis 999), die Sie beim Aufbau eines Links zugewiesen haben. Das Verhalten jedes Besuchers wir separat anhand der Link-ID erfasst. Sie können einsehen, wie viele einmalige Besucher auf den Link geklickt haben (Hits), wie viele Seiten der Besucher angesehen hat und wie viele Verkäufe oder Downloads der Link generiert hat.
Aus diesen Berichten können Sie ersehen, welche Links die beste Performance bringen.
Im Beispiel-Screenshot sehen Sie, dass die Link-ID 014 mehr Gesamtgewinne einbringt als die übrigen Links. Link-ID 011 dagegen bringt die höchsten Gewinne pro Klick. Das bedeutet, dass die Link-ID 014 mehr Traffic und Gewinne einbringt, Link-ID 011 aber eine höhere Rendite generiert.
Durch die Nutzung von individuellen Link-IDs auf Ihrer Webseite können Sie Ihre Leistung auswerten und Ihre Content-Strategie entsprechend entwickeln. Experimentieren Sie mit unterschiedlichen Arten von Links an unterschiedlichen Orten, um die besten Ergebnisse zu erzielen.
Geld von R-TT erhalten
Die Seite Verkaufsbericht zeigt die allgemeinen Erlöse Ihres Partner-Programms an. Im Verkaufsbericht werden Verkaufsstatistiken, Erstattungen und Rückbuchungen für die gesamte Programmdauer oder für einen ausgewählten Zeitraum angezeigt.
Ein Verkauf wird registriert, sobald ein Besucher von Ihrer Seite ein Produkt erwirbt. Zur Ermittlung Ihres Gesamtauszahlungsbetrags wird die Anzahl aller Verkäufe nach Produkt addiert und mit dem Einzelverkaufspreis jedes Produkts multipliziert.
Eine Erstattung findet statt, wenn R-TT einen Kaufpreis erstattet. Unsere Erstattungsrichtlinie finden Sie unter https://www.r-tt.com/Purchase.shtml. Erstattungen werden von der Gesamtauszahlungssumme in USD abgezogen.
Unter einer Rückbuchung wird eine Beanstandung des Kreditkarteninhabers gegen die Abbuchung beim Kartenaussteller verstanden, wonach die Transaktion rückgängig gemacht wird. Dies entspricht einer Erstattung und führt zum Abzug von der Auszahlungssumme im USD.
Die final von uns kalkulierte Auszahlungssumme in USD ist abzüglich Ihrer Erstattungen in USD und Rückbuchungen in USD.
Die Verkaufsdaten sind nach Produkten angeordnet. Die Gesamtverkäufe für einen Berichtzeitraum setzen sich zusammen aus der Summe der Verkaufswerte abzüglich der Erstattungen und Rückbuchungen.
Verkaufsbericht Partnerprogramm
Zum Vergrößern bitte Bild anklicken

Der Bericht zum Kontenguthaben zeigt die Berechnungen zu Ihrer monatlichen Auszahlungssumme an. Wie Sie im unteren Beispiel sehen, berechnet sich die Related-Sales-Zahl (USD) aus der Gesamtberechnungssumme in Ihrem Verkaufsbericht. Diese Zahl wird mit Ihrem aktuellen Partnersatz multipliziert, um daraus Ihr Entgelt zu bestimmen.
Kontoguthaben Partnerprogramm
Zum Vergrößern bitte Bild anklicken

Die ausstehende Gesamtzahlungssumme wird von R-TT automatisch zu Beginn jeden Monats ausgezahlt.