Dodawanie Linków Partnerskich do Nowych lub Istniejących Stron Internetowych
Po skonfigurowaniu konta partnerskiego możesz rozpocząć tworzenie treści lub zapełnianie istniejącej strony linkami partnerskimi. Zanim zaczniesz, zapoznaj się z poniższymi wskazówkami dotyczącymi treści.
Wytyczne dotyczące treści
Najlepiej sprawdzają się oryginalne, bogate w informacje i dokładne technicznie treści związane z funkcjami naszego oprogramowania lub branży IT. Nie ma jednak żadnych ograniczeń tematycznych dotyczących treści Twojej strony, z wyjątkiem tych, które są wyraźnie wymienione jako naruszenia Umowy Programu Partnerskiego.
Mamy wiele przydatnych, szczegółowych artykułów technicznych, recenzji, samouczków i poradników, które możesz przerobić i wykorzystać na swoich stronach internetowych oraz postach na blogu. Korzystając z naszych treści, zachęcamy do wprowadzenia własnego zdania lub analizy do tematu, aby uczynić go unikatowym. Przerabianie artykułu (np. używanie zautomatyzowanego narzędzia do lekkiego przeredagowania artykułu) jest uważane za spam i jest zabronione zgodnie z Umową Programu Partnerskiego. Przerobienie nie tylko zaszkodzi rankingowi Twojej strony partnerskiej w wyszukiwarkach, ale może zaszkodzić rankingowi naszych oryginalnych treści.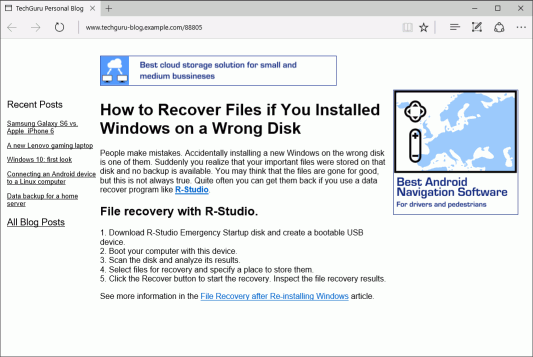 Przykładowy artykuł na blogu z linkami afiliacyjnymi
Po utworzeniu strony lub postu nadszedł czas, aby dodać linki partnerskie. Ważne jest, aby właściwie budować linki, abyśmy mogli poprawnie zidentyfikować Cię jako osobę polecającą, śledzić Twoje wyniki i wypłacić Ci prowizje za wygenerowaną sprzedaż.
Aby zbudować prawidłowe linki partnerskie, zaloguj się na swoje konto partnerskie i przejdź do strony Linki i Grafika. Tam udostępniliśmy wiele wysokiej jakości banerów, obrazów i linków tekstowych, których możesz użyć na swojej stronie.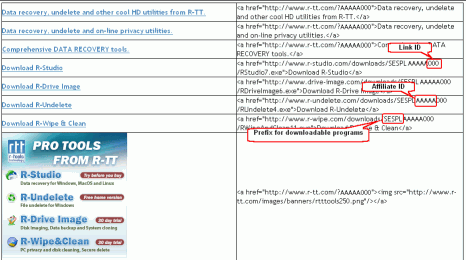 Strona Linki i Grafika
Na stronie Linki i Grafika możesz zobaczyć wiele gotowych do skopiowania i wklejenia fragmentów kodu dla swojej strony lub postu, a także podgląd wyników. Ten kod został wygenerowany z dołączonym unikalnym identyfikatorem partnera. Na przykładowym zrzucie ekranu identyfikator partnera to "AAAAA". Nie zmieniaj tej części kodu linku. Identyfikator partnera pozostaje niezmienny i identyfikuje Twoich odwiedzających, którzy wchodzą na naszą stronę.
Każdy link ma również ID Linku.ID Linku znajduje się zaraz po identyfikatorze partnera i jest pokazane na przykładowym zrzucie ekranu jako "000". W przeciwieństwie do ID Partnera, ID Linku może i powinno być modyfikowane dla każdego linku. Możesz przypisać sobie do 1000 różnych ID Linku (od 000 do 999). Identyfikatory linków pomagają śledzić skuteczność każdego z linków. W generowanym przez nas raporcie statystyk uwzględnimy identyfikator linku, dzięki czemu można zobaczyć, które linki generują najwięcej kliknięć, pobrań i zakupów. Tworząc strategię linków, przypisz różne identyfikatory linków w zależności od tego, na której stronie pojawia się link, gdzie link pojawia się na stronie, itp. Przypisywanie różnych identyfikatorów linków do każdego linku pomaga w pełni wykorzystać dane, które Ci dostarczamy.
Linki partnerskie można również skonfigurować za pomocą Prefiksu Pobierania. Na przykładowym zrzucie ekranu jest to pokazane jako "SESPL" i pojawia się tuż przed identyfikatorem partnera. Zapewnia to wygodny link dla odwiedzających, aby mogli bezpośrednio pobrać nasze oprogramowanie, jednocześnie dając Ci prowizję za polecenie.
Oprócz linków tekstowych możesz również tworzyć linki za pomocą naszych banerów i innych grafik promocyjnych. Linki graficzne i banery mogą kierować odwiedzających na naszą stronę internetową lub bezpośrednio do pobierania.
Poniższe rysunki pokazują wszystkie te cechy.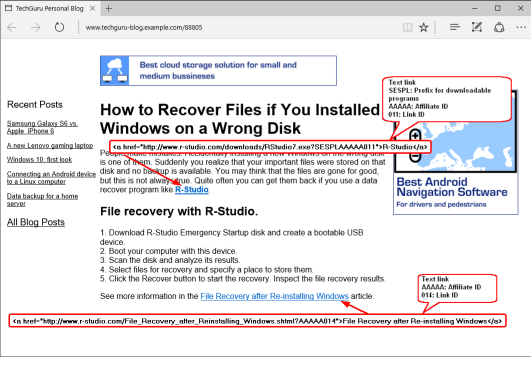 Linki tekstowe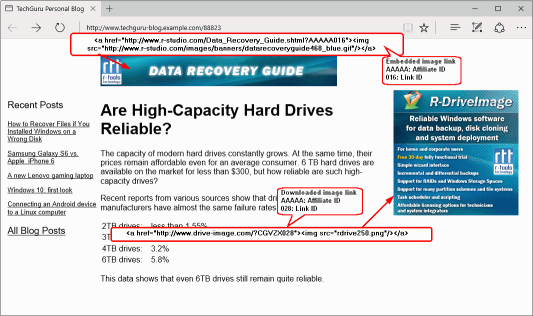 Linki graficzne
Wytyczne dotyczące linków partnerskich
Pamiętaj, że NIE należy używać więcej niż 1-2 linków prowadzących do naszych stron internetowych na jednej stronie internetowej. Jeśli na stronie znajduje się nadmierna liczba linków odsyłających, wyszukiwarki mogą zidentyfikować ten link jako spam. W powyższym przykładzie zwróć uwagę, że na stronie znajdują się dwa linki partnerskie. Jednak jedno z łączy prowadzi do www.r-studio.com, a drugie do www.r-tt.com.
Każda strona zawierająca linki partnerskie musi zostać zatwierdzona. Proces zatwierdzania poszczególnych stron jest znacznie szybszy niż proces zatwierdzania aplikacji.
Zaloguj się na swoje konto partnerskie i przejdź do formularza Dodaj Stronę Internetową. Wprowadź adres URL strony, a następnie prześlij go do nas. Nasz administrator programu partnerskiego sprawdzi stronę pod kątem zgodności z naszymi wytycznymi dotyczącymi treści i linków partnerskich. Po zatwierdzeniu strony program partnerski rozpocznie śledzenie statystyk dla tej strony.

Strona Dodaj Stronę internetową
Pamiętaj, że statystyki dotyczące linków na "Odrzuconych" stronach są ignorowane i wykluczane przez nasz silnik partnerski. Statystyki są gromadzone dla "Oczekujących" stron internetowych i zostaną dodane do Twojego konta, gdy tylko strona zostanie zatwierdzona.