Affiliate links toevoegen aan nieuwe of bestaande webpagina's
Zodra je affiliate account is ingesteld, kun je beginnen met het maken van inhoud of het vullen van je bestaande pagina met partnerlinks. Zorg ervoor dat je de onderstaande inhoudsrichtlijnen doorneemt voordat je begint.
Inhoudsrichtlijnen
Originele, informatieve en technisch nauwkeurige inhoud met betrekking tot de functies van onze software of de IT-industrie presteert het beste. Er zijn echter geen onderwerpbeperkingen voor je pagina-inhoud, behalve de beperkingen die specifiek worden vermeld als schendingen van de Affiliate Programma-overeenkomst.
We hebben een aantal nuttige, diepgaande technische artikelen, recensies, tutorials en walkthroughs die je vrij kunt herschrijven en hergebruiken voor je webpagina's en blogposts. Wanneer je onze inhoud gebruikt, moedigen we je aan om je eigen stem of analyse over het onderwerp te introduceren om het uniek te maken. Artikel spinnen (bijv. het gebruik van een geautomatiseerd hulpmiddel om het artikel niet substantieel te herformuleren) wordt beschouwd als spam en is verboden in overeenstemming met de Affiliate Programma-overeenkomst. Niet alleen zal spinnen de rankings van je partnerpagina in de zoekmachines schaden, het kan ook de rankings van onze originele inhoud schaden.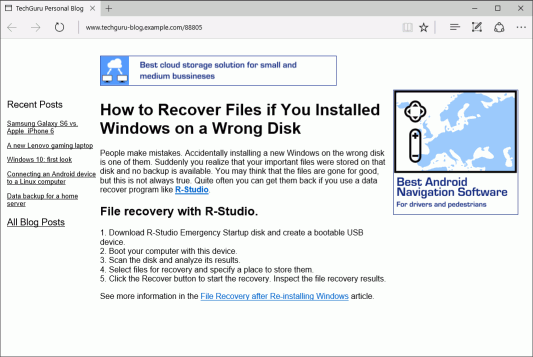 Een voorbeeld van een blogartikel met affiliate links
Zodra je pagina of bericht is geschreven, is het tijd om affiliate links toe te voegen. Het is belangrijk om je links op de juiste manier op te bouwen, zodat we je correct kunnen identificeren als de verwijzer, je prestaties kunnen volgen en je kunnen compenseren voor de verkopen die je genereert.
Om geldige partnerlinks op te bouwen, log je in op je aangesloten account en ga je naar de pagina Links en afbeeldingen. Daar hebben we een aantal banners, afbeeldingen en tekstlinks van hoge kwaliteit geleverd die je op je pagina kunt gebruiken.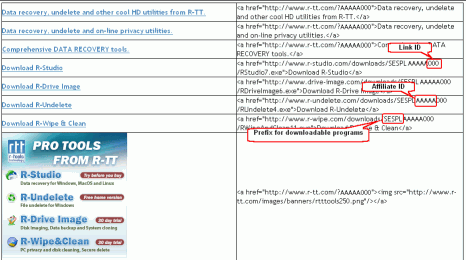 De pagina Links en Afbeeldingen
Op de pagina Links en Afbeeldingen kun je een aantal codefragmenten zien die klaar zijn voor kopiëren en plakken voor je pagina of bericht, evenals een voorbeeld van de uitvoer. Deze code is gegenereerd met je unieke Affiliate-ID al opgenomen. In het voorbeeldscherm is de Affiliate-ID "AAAAAA". Wijzig dit deel van de linkcode niet. De Affiliate ID blijft constant en identificeert je bezoekers die naar onze site komen.
Elke link heeft ook een Link-ID. De Link-ID komt direct na de Affiliate-ID en wordt in het voorbeeldscherm weergegeven als '000'. In tegenstelling tot de Affiliate-ID, kan en moet de Link-ID voor elke link worden gewijzigd. Je kunt jezelf maximaal 1.000 verschillende Link-ID's toewijzen (van 000 tot 999). Met link-ID's kunt je de prestaties van elk van jouw links volgen. In het statistiekenrapport dat we voor je genereren, nemen we de link-ID op, zodat je kunt zien welke links de meeste klikken, downloads en aankopen genereren. Als je jouw linkstrategie opbouwt, wijs je verschillende link-ID's toe op basis van op welke pagina de link verschijnt, waar de link op de pagina verschijnt, enz. Door verschillende link-ID's toe te wijzen aan elke link, kun je het meeste halen uit de statistieken die we teruggeven aan jou.
Affiliate links kunnen ook worden geconfigureerd met een Download Prefix. In het voorbeeldscherm wordt dit weergegeven als "SESPL" en verschijnt het net voor de Affiliate-ID. Dit biedt een handige link voor je bezoekers om onze software direct te downloaden, terwijl je nog steeds krediet krijgt voor de verwijzing.
Naast tekstlinks kun je ook links maken met onze banners en andere promotionele afbeeldingen. Grafische links en banners kunnen bezoekers verwijzen naar onze website of directe downloads.
Onderstaande figuren laten al deze kenmerken zien.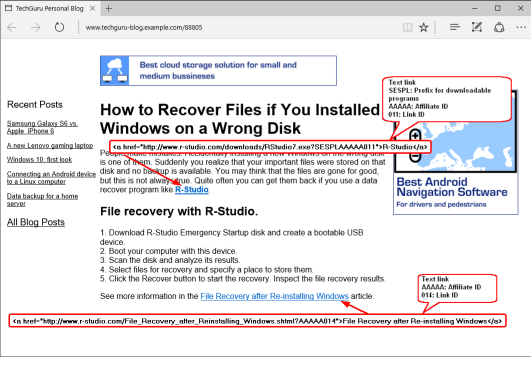 Tekstlinks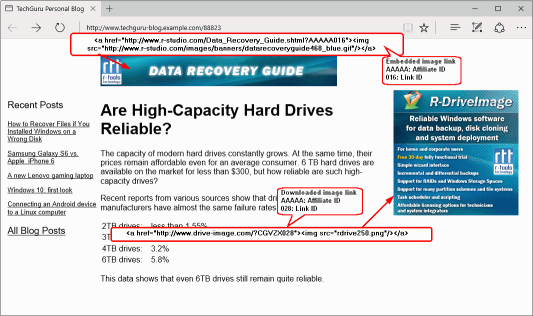 Grafische links
Richtlijnen voor Affiliate Links
Houd er rekening mee dat je NIET meer dan 1-2 links op één webpagina naar onze webpagina's mag gebruiken. Als er een buitensporige hoeveelheid verwijzende links op een pagina is, kunnen zoekmachines de link als spam identificeren. Houd er in het bovenstaande voorbeeld rekening mee dat er twee gelieerde links op de pagina staan. Een van de links verwijst echter naar www.r-studio.com en de andere verwijst naar www.r-tt.com.
Elke pagina die affiliate links bevat, moet worden goedgekeurd. Het goedkeuringsproces voor afzonderlijke pagina's is veel sneller dan het goedkeuringsproces van de aanvraag.
Log in op je aangesloten account en ga naar het formulier Webpagina toevoegen. Voer de pagina-URL in en verzend deze naar ons. Onze beheerder van het partnerprogramma zal de pagina controleren op naleving van onze richtlijnen voor inhoud en partnerlinks. Zodra de pagina is goedgekeurd, begint het partnerprogramma met het bijhouden van statistieken voor die pagina.

De pagina Web toevoegen
Houd er rekening mee dat de statistieken voor de links op "Geweigerde" pagina's worden genegeerd en uitgesloten door onze aangesloten engine. Statistieken worden verzameld voor webpagina's die in behandeling zijn en worden aan je account toegevoegd zodra de pagina is goedgekeurd.